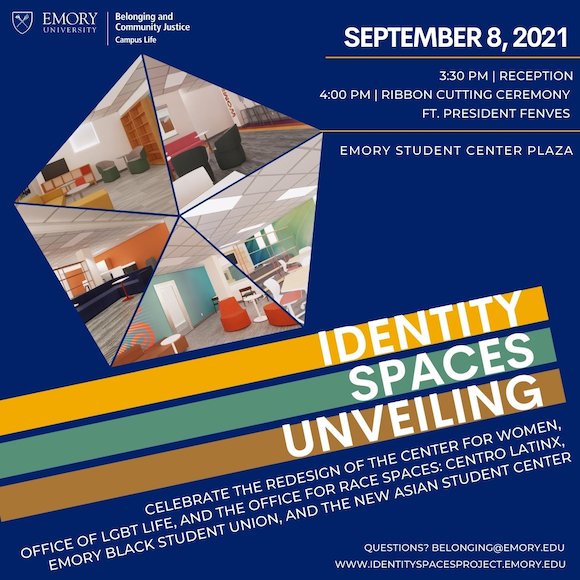 Campus Life introduces The Blue Folder: A Guide for Faculty and Staff Supporting Students
The Blue Folder, officially "Emory Cares: Creating a Student Centered, Supportive Campus Community Together", is a comprehensive resource guide to help faculty and staff support students' learning, well-being, and sense of belonging. It provides practical advice on how to relate and respond to a variety of concerns students may face, including academic, medical, financial, etc. It also contains information on mandatory reporting — when it is required and when it is not – and contact information for a plethora of programs and support services. Bookmark it now for easy reference.
Campus Dining and SCMIS partner to address students' food insecurity
Food insecurity among students on college campuses nationwide continues to rise. Emory, unfortunately, is not an exception. In response, Campus Dining and Student Case Management and Intervention Services (SCMIS) have developed a variety of programs to address the immediate critical food needs of our undergraduate and graduate students. Learn more.
Registration now open: Emory University symposium on slavery and dispossession
Many universities are examining their histories and discovering their connections to slave labor and Indigenous dispossession. "In the Wake of Slavery and Dispossession" will highlight ongoing work in the areas of slavery, dispossession, and restorative justice, with emphasis on the legacy of racism and its enduring effects at Emory University. The sessions will include creative interpretations and dialogue, with a primary focus on the perspectives of Black, Native American, and Indigenous peoples. Learn more or register at symposium website. Read Emory News Center story.
This Michael C. Carlos Museum program offers an opportunity to read and discuss great works of literature related to the museum's collections and exhibitions in an informal small-group setting with distinguished members of the Emory faculty and others as guides. Learn more/register
Krystyna Jordan is leaving Emory
After four years with Emory Campus Life, Krystyna Jordan 17C, coordinator of the 1915 Scholars and Mariposa Scholars programs, has moved on to pursue her MDiv at Gammon Seminary at the Interdenominational Theological Center (ITC) in Atlanta. Krystyna served with the Emory Together Fund before transitioning to Belonging and Community Justice (BCJ) where she continued her support for first-generation, low-income, undocumented, and DACA students. Questions about 1915 Scholars or Mariposa Scholars should be directed to Danielle Bruce-Steele or Dona Yarbrough.