New Campus Life associate VP to focus on student health and well-being
March 30, 2022
This story originally appeared in Emory News Center
By John Baker Brown
James Raper will join Emory University in June as the inaugural associate vice president for health, well-being, access and prevention. The new position brings increased focus to the university's holistic approach to student health and well-being — and builds on Emory's commitment to prepare all students for lifelong success and purpose.
What is Raper looking forward to in joining Emory? "One of the aspects of my work that I love most is balancing the intimacy of one-on-one interactions with big-picture strategy that impacts our community. Meetings with students and colleagues – especially those during which we can walk together on campus – are when I really learn about what matters to those around me," Raper says. "Shared times like these are great opportunities for us to learn and grow together, and I can't wait to find my favorite places to walk on Emory's beautiful campus."
The newly created associate vice president position is part of a strategic realignment in Campus Life to enhance integrated health and well-being services, programs and initiatives for Emory undergraduate, graduate and professional students, according to Enku Gelaye, senior vice president and dean of Campus Life. Raper will report to Gelaye with a portfolio of responsibility that includes Counseling and Psychological Services (CAPS), the Office of Health Promotion, Office of Respect and Student Health Services (SHS).
"These four areas carry primary responsibility for student health and well-being and have collaborated closely for years to deliver exceptional services and support for our students," says Gelaye. "Now these units will partner even more closely and with greater synergy than ever under the very able leadership of James Raper. We are excited and honored to have a leader with his extensive experience join our team."  
Raper holds a PhD in counseling and clinical supervision from Syracuse University. He brings to his new role more than 20 years in higher education, providing direct counseling and consultation, collaborative strategic planning, administrative leadership and classroom teaching. Raper currently serves as assistant vice president of health and well-being at Wake Forest University, which serves more than 8,000 undergraduate and graduate students.
In that role, he manages a staff of more than 150 and leads the strategic vision and implementation of the university's campus health and well-being programs, services and initiatives. He supervises Wake Forest's Campus Recreation; Center for Learning, Access and Student Success; Office of the Chaplain; Office of Wellbeing; Office of Wellbeing Assessment; Student Health Service; and University Counseling Center.
"James Raper is the ideal student affairs professional for this new position and is more than prepared to lead our new strategic initiative to further enhance health and well-being services for Emory students," says Gelaye. "We are delighted to have him join Emory University and the Campus Life team."
Gelaye's enthusiasm is shared by other senior executives, including Ravi V. Bellamkonda, provost and executive vice president for academic affairs. "As Emory's inaugural associate vice president for health, well-being, access and prevention, James Raper will play an important role in our campus-wide efforts to help all students thrive," the provost says.
"Along with our dedicated team of professionals focused on student health and well-being, James will support Emory's growing emphasis on student well-being and purpose through the Student Flourishing Initiative and other efforts, recognizing these areas as a vital part of students' holistic personal and professional development," Bellamkonda adds.
Supporting students in and out of the classroom
Stepping into a newly created leadership position is not a new experience for Raper.
"I had the honor to become Wake Forest's inaugural assistant vice president for health and well-being in 2019, with a broad portfolio of offices that allowed me to align all of our work around shared, integrated and holistic goals," he says.
"I love working with my teams to plan, assess and develop interventions to meet the needs of a student community," Raper adds. "While there are likely some commonalities across highly competitive institutions like Wake Forest and Emory, I'm excited to learn more about what makes Emory 'tick' and listen deeply to students, faculty and staff about how we can best support students in and out of the classroom."
But, more importantly, he says, "I've spent thousands and thousands of hours with students, faculty and staff who honored me by sharing their deepest pains and challenges. These experiences have always reminded me that we all struggle at times, and yet we all have amazing capacities for resilience — particularly when we allow ourselves to lean on one another. Such stories and voices will always inform the work I do."
What's on the agenda for his first several months in the role? Raper says he will be figuring out where his new position "fits" in the fabric of campus and student life, and which areas he and his teams can have the most important impact.
"I will continue to be the lifelong student I've always been and learn all I can about Emory. I also take very seriously my role as a leader, which means both advocating for students and for the staff I have the honor of leading, as well as creating space for important voices that need to be heard," says Raper. "As one of my mentors often says, 'showing up is what matters most.' I plan to show up and keep showing up to listen, learn and advocate."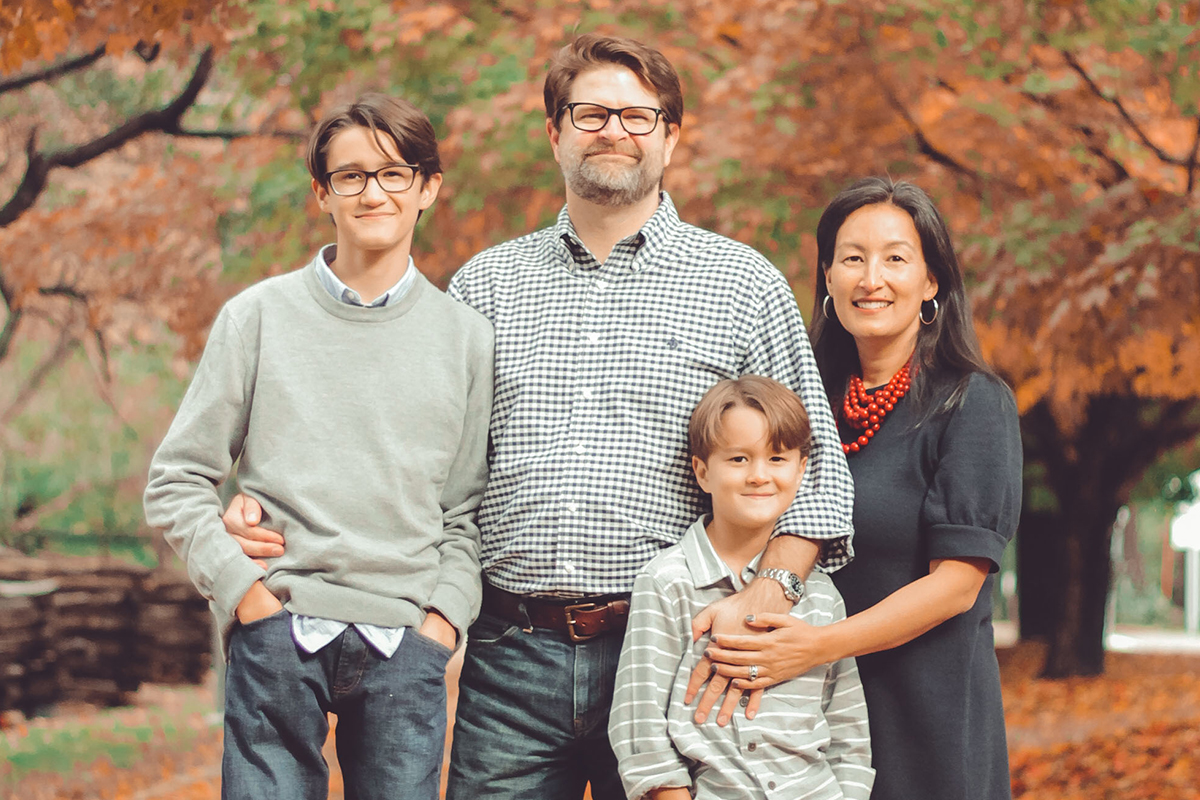 Raper is a licensed clinical mental health counselor-supervisor in North Carolina. His PhD research dissertation included a focus on suicide intervention skill, as does a book chapter that he co-authored, which addresses suicide intervention and crisis response. He is regularly invited to share his expertise in national and international settings on topics that include suicide assessment and intervention, clinical supervision, behavioral intervention and the integration of health and well-being efforts in higher education. He has dozens of presentations and publications to his credit, engages with a range of professional associations, and volunteers with several community service organizations.
Raper and his family — including his wife Paige, sons Cranford and Emery and dog Waffles — enjoy time outdoors and "can't wait to explore Georgia's many hiking trails" when they move from Winston-Salem to Atlanta, he says.
Photo by Hannah Allison Photography